.

A-Frame ...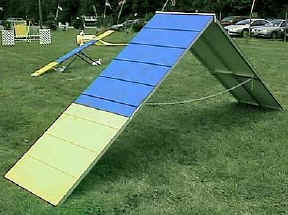 The 'Big Boy' of agility obstacles, the A-frame, is made more manageable with our lightweight, top-quality, and adjustable aluminum frame and wood surface. It won't rust, warp, and the aluminum frame never needs painting. To take it apart to transport, simply tip it on its side and pull out the long hinge pin at the top. To adjust it to any height (as low as 12" off the ground), tip it the side, lengthen or shorten the chain, then tip it back up.
Dimensions 9' high, 3' wide, and meets competition standards. It comes with a thicker aluminum than some others out there, giving it more strength and rigidity. 2 extra-strong chains are included. No gap at the top for your dog's feet to get caught in. It comes pre-painted with the popular royal blue and yellow scheme (as pictured), which matches many of our other obstacles. (However, it is very easy for you to paint over the blue with any color of your choice). It also comes traction-treated and the grip-strips are pre-attached. With this A-frame, you don't have to do anything but unwrap it and set it up!
Shipping Information: This item ships by freight truck. If you place an order using the shopping cart, the shipping charge will not show. Instead, we will call you after you place the order to give you the quote and talk about details. We will get your permission before charging your credit card.
Click HERE for even MORE information about the A-frame.
---
---

Pampered-Paws Kit
Everything you need to resurface this obstacle with a soft and attractive rubber surface. Available for your used or new equipment. Get better traction and more speed! Click here to learn more.
---
Can't afford an A-frame? Need something more portable?
Consider the CONTACT TRAINER!