.
Competition Broad (or Long) Jump with Marker Poles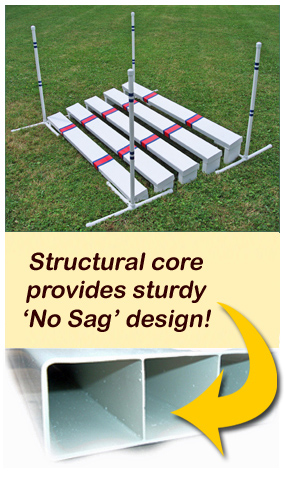 One of the least practiced obstacles...The Broad Jump (or Long jump) is often neglected in agility training, yet it is a jump that can be seen at every level of competition. The challenge is for your dog to jump over the boards, not to run on top of them (which is automatic disqualification). Easy mistakes to make if this obstacle is not practiced enough!
Affordable Agility is proud to present this top-quality (yet affordable) Competition Broad Jump. It is clearly one of the best you'll find on the market, offering two very important features: boards that are maintenance free (i.e. plastic), but beefy enough to not sag or blow over in the wind. You'll find this set will far exceed these expectations, utilizing honey-combed reinforced planks that are almost 2" thick...as heavy-duty as wood boards, but they will not warp or need painting. The whole unit weighs only 25 lbs total.
Specifications: Each board is slightly variegated in height and 48 inches long. It fully meets AKC competition requirements. Some easy assembly is required. You will use a different amount of boards, from 2-5, depending on your dog's size. (the set comes with 5 boards). Also included is free colored tape (blue & red) for optional striping.
Comes with corner marker poles! Corner marker poles are required in competition. Besides jumping over the boards, the goal is for your dog to also jump in between the poles (not sideways through them). These poles are free-standing, for use indoors or out.
---