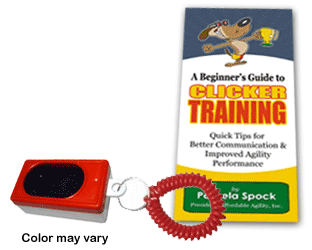 Clicker Training Kit...
The clicker is a powerful tool in the hand of a dog trainer.
Used all over the world by professionals to train dolphins, circus animals, and a myriad of other animals, this small, but amazing device with its crisp, metallic sound will help speed up your dog training and make it more effective!
On a basic level, the clicker is a 'secondary reinforcer', similar to saying "good dog" for things that your dog does that you are happy with, and wish him to repeat. But it is much better than the spoken word. First, the timing is much more quick and precise. In order to shape more exact behaviors, you can click to instantly pinpoint subtle movements such as your dog turning in a certain direction, winking or twitching his ears. It's usually not possible to say "good dog" fast enough to communicate to your dog what it was that pleased you! Second, it is a more clear and concise sound in comparison to all the jumbled sounds that your dog hears in many environments. Likewise, it is consistent, lacking the emotional connotations and varied tones that human words portray which may confuse the dog and slow up the training process.
Affordable Agility's "Clicker Kit" comes with a standard clicker, a wrist strap/key chain, and a training guide for successful clicker training!