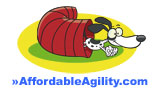 By purchasing this item you are agreeing to the limited warranty and terms set out below:

Why 'terms'?
We believe in an honest, straight forward approach to selling our products. Many other agility companies do not specify expectations of their products, and the end customer is left not knowing what they can expect. More often than not, a lack of terms means that once you buy it, you are on your own. Not us… we stand behind our products, and believe in being fully descriptive.

The Pause Table:
The Pause Table portion has a 1/2" thick BC-exterior grade plywood surface, painted with primer on bottom and top side, and then two coats of exterior grade latex paint on top side. A sand infused coating is applied on the first coat. The frame fascia is 3" tall (per AKC guidelines) and is also painted twice over. This item is individually handcrafted and will have individual characteristics in the wood. As plywood is made up of multiple layers, you can expect that there may be minor voids and small splits that either will already be in the grain, or will develop over time. These may also be on the edges or surface. These are to be expected and they will not deter from the functionality of the obstacle. They will not go all the way through the wood. Due to the nature of this product having a wood surface, we cannot impress enough to you the importance of REGULAR MAINTENANCE and PREVENTATIVE CARE. Care to preserve its condition is highly suggested, particularly when storing it outside. How and where you store it dictates the longevity of the wood surface. Regularly inspect it for blemishes, mold, damage, or fading. You will need to repair and prevent such occurrences before they get out of hand. Wood naturally shrinks and expands with the weather, so it is best if you periodically paint the top and bottom to prolong its life. Voids on the edges and cracks in the wood are also a natural occurrence and cannot be avoided. You can fill these voids in the wood with caulk or wood putty and then paint over them. This will prolong its life.

The Contact Trainer:
The Contact Trainer has an all aluminum construction with a top rubber surface. It is relatively maintenance free.

Questions about more product specifications can be directed to manufacturing@affordableagility.com.

Limited Warranty:
This item will come to you in a new condition. Upon receiving, it is expected that you immediately inspect it, and if you have any problems with manufacturing quality, let us know right away. After 30 days of purchase, this item is considered accepted and is not returnable (warranty expires). During the 30 day period it is returnable for manufacturing defects only. Once again, please periodically inspect it for blemishes, mold, damage, or fading. You will need to repair and prevent such occurrences.

Our continued support:
We stand behind our products, and are always here to assist you with questions and advice. Feel free to contact us for any reason. We will be glad to advise with maintenance techniques, replacements parts, etc. sales@affordableagility.com.


---

More questions? Email us »