.
Competition Adjustable Jump (Freestanding)...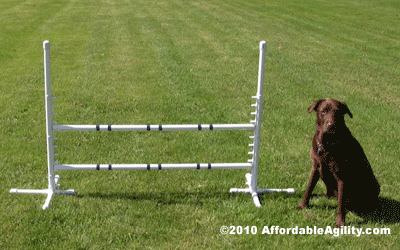 Now... 4 Great Colors to Choose From!


New improvements have made our Competition Jump simply perfect. It starts by meeting all the standards for AKC, USDAA and TDAA trials. There are 12 height adjustments from 4" to 26" (every 2") and the heights are clearly marked (engraved) on the side bars for quick and easy changes. The jump cups are permanently fixed and will not slide off their measurement.

This traditional free-standing base is perfect for less-than-perfect ground. If you're hosting an outdoor trial, or do outdoor practice, this may be the best option for you! This competition adjustable jump is easy to set up, take down, and store.

It features 1 1/4" OD diameter pipe that is furniture-grade and UV-resistant, and includes free colored tape for you to decorate the jump. All this, and at an affordable price too!

Optional:The jump comes exactly as shown. If desired, you can add even more bars to this jump. (the minimum in competitions is two displaceable bars, but you can have more).

Please note: This jump will not work with our wings because of the base feet. For another version of this jump that will work with our wings, see our Fixed Base Competition Jump.