.
Twist & Fold Kennels...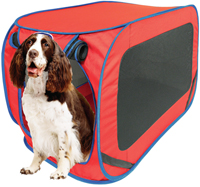 Some things are just plain amazing, and that's how we feel about these lightweight portable dog kennels. What can be more convenient than carrying under the seat of your car or in your suitcase, a compact emergency kennel for your dog? When you arrive somewhere and need it, just "let it go" and presto, it will pop-open! And when you are done using it, simply "twist-and-fold" it up into a small bundle again. The design features internally sewn "flexi-poles", a zippered door, and mesh windows for air-flow. Perfect for parks, beaches, agility trials, hotels, friend's homes, and more!
Note: The material is made of a lightweight rip-stop 'parachute'-type of material. It is not meant to be for primary crating, but for an economical and highly portable method. We recommend that your dog or puppy already be crate-trained before using these.

There are three sizes to choose from:
Small: For dogs up to 25 lbs. (Set-up size 15"W x 15"H x 26"D, Fold down size: 9.5" diameter.)
Medium: For dogs up to 50 lbs. (Set-up size 20"W x 20"H x 32"D, Fold down size: 12" diameter).
Large: For dogs up to 70 lbs. (Set up size 22"W x 22"H x 36"D, Fold down size 12" diameter.)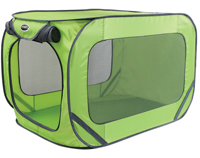 Note on Sizes: Keep in mind that most dogs cannot stand up in rectangular kennels. We recommend getting the largest size you can afford, however, to give your dog more room.
Note on Colors: Colors are subject to availability. You can request a color in the "notes" section of the shopping cart (just before you enter your credit card), but this does not guarantee we have that color in stock. The shade of the color may vary from the pictures shown.

---