This cute mini-size seesaw, the Mini Travel Teeter, is all about instant fun! The plank is masterfully designed to quickly break down into 3 pieces, and can fit into the back of a small car. Just plug and play, no tools needed. It takes under a minute to set up. Enjoy practicing agility anywhere your imagination takes you, including indoors, parks and dog shows. It stands 13 inches high and has an 8 foot long x 11 inch wide plank. It's specifications are not to competition standards, though it is allot of fun and very convenient to practice with! Recommended for dogs up to 80 lbs.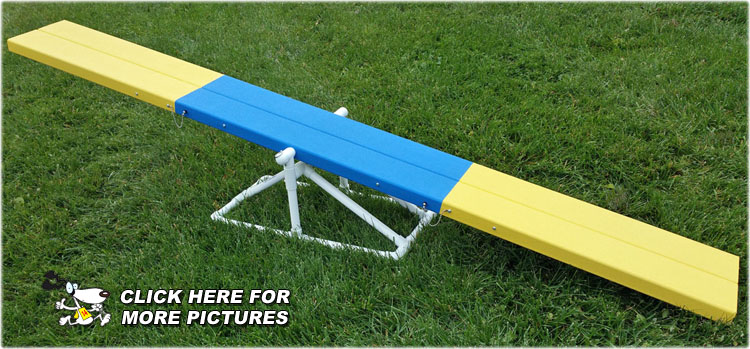 Some special features include:
Made completely from maintenance free, UV protected plastic materials. Rain or shine, this weatherproof teeter will withstand the elements.


The structural core plastic boards will not sag, warp or rot over time. They are professionally painted and treated with "just the right amount" of non slip traction to prevent slipping without hurting your dog's paws. It does have some slight "flex" at the joining creases when weight is applied to it, though it will not break. Because it does flex a little, we have placed a general weight limit recommendation at about 80 lbs.


Sturdy base has a removable fulcrum, making it easy to separate the plank from the base for travel and storage.


An ingenious design allows this item to ship via regular UPS - no high freight charges as with full length boards.


It is proudly made by us in the good olí USA!


Click Here to see more pictures.



Pampered-Paws Kit
Everything you need to resurface this obstacle with a soft and attractive rubber surface. Available for your used or new equipment. Get better traction and more speed! Click here to learn more.