.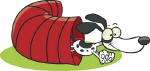 Competition Tunnel Information Page...

Here you will find tips, testimonials, and care instructions for the Competition Tunnels we sell. Drop us a line if you have any ideas, we'd love to hear from you!
---

"How heavy are the competition tunnels?"
For the 6" spacing on the coils, the 10, 15, and 20 feet lengths weigh 28 lbs, 39 lbs, and 53 lbs respectively. For the 4" coil distance, they weigh 36 lbs, 48 lbs, and 63 lbs respectively.

"What does the 6" or 4" spacing mean?"
This is the space between the coils. The closer they are, the more coils and weight there is to the tunnel. 6" is perfectly acceptable for training clubs, etc, however, for sanctioned dog agility trials, AKC and USDAA requires 4" spacing. (AKC still allows 6", but is phasing them out).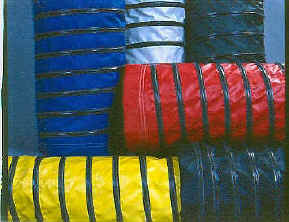 "Which color should I get?"
The lighter the color, the easier it is, supposedly, for the dog to see it. In which case you would want the Yellow first, or Red next. Some people like to challenge their dogs with darker colors. This would be the Forest Green or Royal Blue. On all the tunnels there are black stripes on the coils which also helps the dog to see it. Note: if you need your tunnel faster, we recommend the Blue, Red and Yellow. Green might take a while longer.
Note: Green is not shown in picture. White, Black, and Navy Blue are not available.

"How do I keep the tunnel from rolling side to side in the wind, or after my dog runs through it?"
We offer pvc cradle braces for these tunnels (pictured below). To order these, click here.

GO BACK TO THE COMPETITION TUNNEL PAGE
GO BACK GO BACK TO THE EQUIPMENT LIST PAGE