.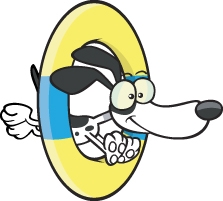 Tire Jump Info Page...

Here you will find commonly asked questions and shipping information about the tire jumps we sell.
Drop us a line if you have any further comments - we appreciate your input!
---

"Which Tire Jump should I get?"
For home practice, where you will only be training one or two dogs, the practice tire jump has some advantages. It can easily be picked up and moved around. It has less pieces, is lighter, and the shipping is less costly. The tire, although thinner than what you'd see in a competition, still has the same size opening as competition tires (24 inches). It can easily be adjusted in height, but if you need to make many adjustments in one training session, it is better to invest in the competition quality tire jump.

The club use, multi-dog training, serious users, and for use in trials, we recommend the competition tire jump. It contains the tire & frame specifications that are required by the trial organizations, so it is taller, sturdier, and is just what you'd see in an agility trial. To adjust the height you unclip the chain, raise or lower the tire, and re-clip. It will stand up to endless adjustments, and holds up better in wind.

"How is the height adjusted on the practice jump? "

It slides up and down on the side frames. The all weather velcro straps (which attach the tire to the frame uprights) are adjusted tight enough to keep it from slipping, and yet are still loose enough to slide if needed.

As far as heights, you need to first determine what jump height your dog can jump (don't force your dog to jump an unreasonable height: If you don't already know, see our jump height page for figuring what the proper height is for your dog) With a yardstick or measuring tape, measure from the ground up to the rim of the tire, and slide the tire up or down until you reach your desired height. It would be a good idea if you used a permanent marker and marked on the pvc poles the various measurements you plan on using. The common heights for AKC are 8", 12", 16", 20", and 24", although you can put the tire as low as the ground, or as high as 30". By marking the sides, you won't have to use a measuring device next time you want to adjust it.

"How does the foam stick hold up in the weather?"

We have experimentally left foam sticks outside in New York weather for a couple years now, and they are still holding up. And they weren't even protected with tape. We include FREE with your tire jump enough colored tape to wrap and protect your foam stick.

GO BACK TO THE PRACTICE TIRE JUMP PAGE
GO BACK TO THE EQUIPMENT LIST PAGE

.