.

My Agility Record Book...
For those who compete in agility, you'll wonder how you ever lived without this record book! Specially formatted pages designed by competitors who KNOW what kind of information you need to record!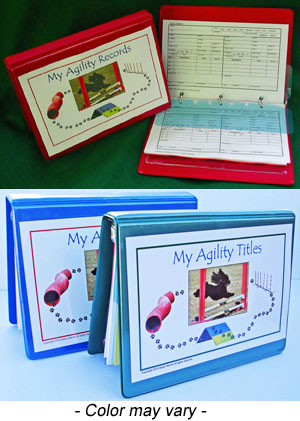 Summary:
Standard Small Loose Leaf Binder size holds 8½ by 5½ inch pages.
Organize the pages however you wish, by venue, dog, date, etc.
Archive old event pages to another binder and just carry what you need to a trial.
Easily updated with new Title pages and Event Record pages when necessary.
Pages Include:
20 Double-sided "Title Pages" to record titles & dates earned for AKC, USDAA, NADAC, UKC, and CPE. (Less common venues such as AAC, ASCA, CKC, DOCNA, Sweepstakes, and TDAA are available for special order)
30 double-sided "Event Pages" to record your dog's scores in 120 competition agility runs!
Club Pages to record contact information for agility clubs and agility friends.
Contact Information Pages to record your dog's information including birth date, registration numbers, jump height, etc. as well as your personal contact and vet information. All the info. in one place to make registering for agility trials much faster!
Bonus Items:
Two "Page Finders", Four "Registration Card pockets", AND a Zip-Lock Pouch for loose items like your dog's I.D. tags, a pen, etc.!