.
Realistic Stuffed Dogs ...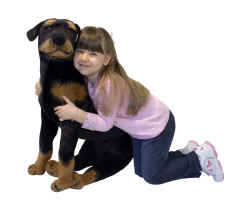 These premium quality plush dogs are just plain irresistible. We've have the Dalmatian in our office for awhile now, amazing all our guests at how incredibly real it looks! There's so much you can do with these stuffed dogs, from decorating your office or business, deterring unwanted guests from your front porch (put a beware of dog sign next to it!), dress it in holiday outfits, or give as a gift to delight a dog lover! (Ages 3+ recommended).
NOTES: The dimensions below are Height x Width x Depth, measured in inches. Although generally "life-size", they are not necessarily guaranteed to be exact to breed standards, so may differ from your dog. When you get your Plush Dog in the box, it might have some jet lag. Simply brush, fluff & squeeze it up to get it back to its perky self!