.
Teacup Pause Table...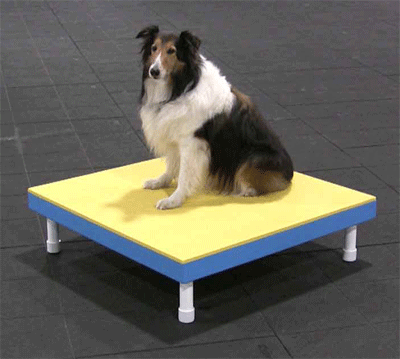 Meet the Pause Table, the infamous place where your speeding bullet has to stop and rest for a loooong torturous 5 seconds - a challenge for many energetic dogs! Affordable Agility is pleased to offer you a practical solution in this ultra-sturdy Pause Table. Easy assembly instructions and training tips are included.

Features:
The Top: The 35" x 35" regulation-size top has routed edges for safety, and is framed in with a 3" fascia. It is painted with contact-zone yellow exterior paint infused with sand for a reliable traction surface (so your dog doesn't slip off). It weighs 46lbs.


The Frame: Stands 6" and 12" tall, with interchangeable legs. In addition, with the legs removed, it stands 4" tall. The legs are easy to change out without any tools needed. The frame is impressively sturdy and won't sag, tilt, or tip under normal usage.
To order: type quantity & add to cart.

Teacup Pause Table ....$259 - OUT OF STOCK - Please email us to be notified when it is back in stock.


---

Pampered-Paws Kit
Everything you need to resurface this obstacle with a soft and attractive rubber surface. Available for your used or new equipment. Get better traction and more speed! Click here to learn more.
---