Competition Tire Jump...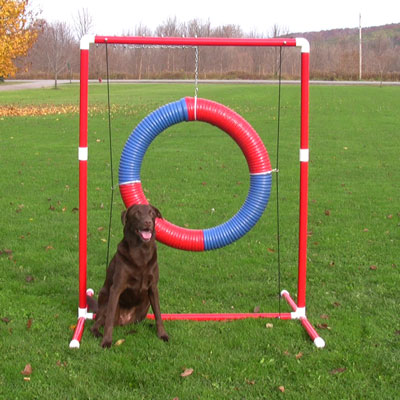 Our competition-quality Tire Jump frame is made of 1 1/4" UV stabilized furniture grade piping and disassembles into 6 pieces for easy storage. The tire is made of hollow plastic tubing, attached at the top with chain, and held securely in place with a sliding shock-cord support. By simply unclipping the top of the chain and moving the tire up and down, you can quickly adjust it to any height. There are preset height positioning eyebolts that allow you to quickly adjust the height of the tire. There are fixed positions for every jump height in the AKC, USDAA, and CPE venues. You have a choice of white or red frame, and tire size of 24" (AKC & CPE) or 20" (USDAA).

There is some simple assembly required. The tire will come straight and undecorated. We include free colored tape for you to wrap it yourself and easy instructions for assembly!

We also sell this Tire Jump with a Breakaway Tire. Click Here to see it.
To Order: choose quantity & add to cart.

24" Tire:
Competition Tire Jump (24" Tire, white frame) ... $157.00
Competition Tire Jump (24" Tire, red frame) ... $167.00

20" Tire:
Competition Tire Jump (20" Tire, white frame) ... $157.00

Competition Tire Jump (20" Tire, red frame) ... $167.00