---
VersaWeaves™ Specifications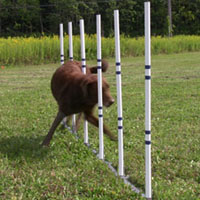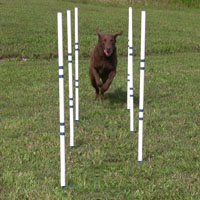 Meets and exceeds competition standards.


Poles are 40" tall (30" for TDAA VersaWeaves) and 1" outer diameter. UV stabilized pvc won't deteriorate in sunlight. Comes with vinyl tape for decorating and better visibility for dogs.


Poles are spaced 24" apart for USDAA, CPE, NADAC, and AKC and 21" apart for TDAA.


Bases are 1/4" thick rigid aluminum.


Bases have a safe, low-profile design that is close to the ground to minimize dog tripping.


Bases feature a support foot at every pole, alternating sides opposite path of dog, for greater stability.


Entire set is extremely portable. Bases of the 6-pole set breaks down into three sections, while the a 12-pole set breaks down into six sections.


When used as a channel weave, the VersaWeaves™ allow for 37 different incremental width settings up to 18-1/2" wide. Poles easily adjust and lock securely into place so they are firm enough to stay put, but flexible enough to accommodate your dog's run.


Ground stakes are 7" tall. They have a large round head that is low profile for safety. Six stakes are included with the 6-pole set, twelve are included with the 12-pole set.


Base connectors are low profile and easy to use. We even include an extra connector if you choose to expand later.


Solid aluminum posts unscrew from base making for easier transport and storage.


Vinyl decorating tape is included that gives better pole visibility for your dog.


Can be used indoors OR outside.


Complete assembly and training instructions are included. Easy to read and understand with simple instructions and illustrations.
Back to Top »
---

More questions? Email us »

Copyright © 2000-2016 Affordable Agility, Inc. All rights reserved.