Weave-Pole Wire Training Guides...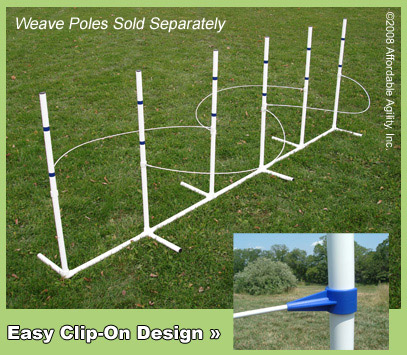 Have weaving problems? Wire guides are very helpful in teaching your dog to weave. By providing a visual "pathway" for weaving, it doesn't take as long for your dog to learn the concept. Soon you'll be able to inch the wires up or down (out of your dog's line of sight), and then eventually remove them entirely.
Made of flexible pvc, these wires are a cinch to snap on and off. They fit all standard 3/4" (1" outer diameter) weave sets. Our weave wires can be used on 20" to 24" weave bases. These are the best wires we've ever seen!
These items will have a shipping cost attached to it in the shopping cart, but if they are ordered with other items that have shipping costs, the shipping may be adjusted lower at the time of order processing.
Price Note: 6-pole weave set uses 4 wires, while a 12-pole weave set uses 10 wires. This is the reason for the price difference between the two sets.
Color of clips may vary from teal to blue. Though the entire set of wire clips you receive will be the same color.
---
TO ORDER: Enter quantity & click add to cart button:

Wire Guides are SOLD OUT...
Please email us to be notified when they are back in stock.

Wire Guides for 6-pole Set ...$48/set (has 4 wires)
Wire Guides for 12-pole Set ...$105/set (has 10 wires)