---
AKC Broad Jump Specifications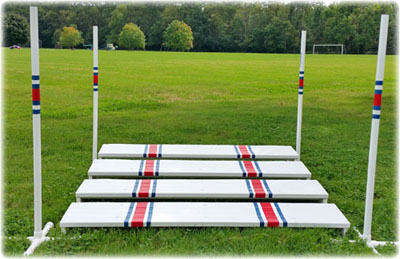 Approximate measurements:
Each board is 8" deep and 47-1/2" long, with a ¾" increase in height from the front side to the back side of the board. Each of the four included boards increase in height, with the shortest board's front side measurement being 3-1/2" tall, and the tallest board's back side measurement being 8-1/2" tall. In addition, there is a ¾" increase in height from the back side of each board to the front side of the subsequent board's front side. Marker poles stand 37" tall.
Construction:
Boards are constructed with a wood patterned UV resistant thin vinyl fascia on the top side, attached to a supporting structure of UV resistant 1-1/4" ID PVC pipe on the underside. Board legs are made from PVC Koma and attached to the board's supporting structure during initial assembly with compression fitting couplers and plastic push clips. Marker poles are made from furniture grade 1" OD UV resistant PVC pipe.
Maintenance:
Fully UV resistant plastic construction means that this broad jump is completely maintenance free. Though with anything that may sit outside in the elements, a little extra care will keep your jump looking better over the years. If you choose to decorate your obstacle with the included vinyl tape, you may need to occasionally replace the tape due to sun fading and weathering. You may also choose to paint the obstacle utilizing good quality paints made for plastics.
Back to Top »
---

More questions? Email us »

Copyright © 2000-2018 Affordable Agility, Inc. All rights reserved.