Experience the ultimate agility obstacle!
This full featured, top of the line, competition quality dog walk provides exclusive benefits and features not found anywhere else.
Our product development team thought long and hard about you and your dog when designing this obstacle. Granted, it isn't cheap. But when it comes to the comfort and safety of your dog, you can't afford to cut corners on an obstacle of this magnitude. So we spared no expense in making it. Countless hours were put into engineering, developing, and testing it until we we got it just right. And we're excited to offer you what we believe is the very best dog walk you can buy - at any price.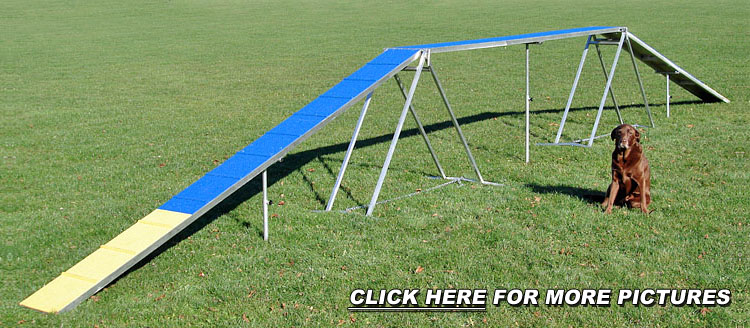 Would you like to
talk to a live person?
Call 1-800-254-9441 and we'll be happy to answer any question you have before you buy!
Some special features include:
All aluminum support frames are adjustable in height and provide the utmost in stability.


Aluminum adjustable support legs on every plank prevent plank bounce (a HUGE problem with most dog walks).


Base feet have slight angle to them for improved stability on any surface, from matting to grass.


Special hinges eliminate the gaps where the planks meet each other - a unique safety feature no one else offers!


Each plank is professionally topped with an attractive, maintenance free rubber surface for better traction and performance. They are royal blue with 42" yellow contact zones and rubber slats on the up/down planks.


Meets and exceeds AKC standards for competition.


Click Here for more specifications.


Click Here for more pictures.


Ordinary dog walks can be intimidating just by their sheer size and weight. You'll be pleasantly surprised at how simple our dog walk is to setup and take down. We provide complete assembly instructions with step-by-step directions, and once you're familiar with the setup process you'll have your dog walk ready to go in mere minutes.
But most importantly, you can purchase from us with confidence! We're a leading supplier of agility equipment in business for more than 15 years. If you have questions or need help, our knowledgeable, friendly staff will be happy to assist - before, during, or after your purchase!
To Order, Choose Quantity & Click Add to Cart Button!
Availability & Shipping Cost: These are made to order. In addition, due to the size and weight of this obstacle, the shipping cost is custom quoted. When you place an order for this item, the shipping cost will not be reflected in the shopping cart and no charge is made to your credit card. We do not charge your credit card until we receive your approval. We will email you a shipping cost and timeframe after we receive your order. To request availability and shipping information in advance, you are welcome to email us at sales@affordableagility.com or call 1-800-254-9441 - please include the obstacle that you're interested in, and the 'ship to' zip code.
Competition Dogwalk

Bases Only

...$1,169

For the "do-it-yourselfer", the "Bases Only" option includes everything but the planks. You get our special no-gap safety hinges, telescoping tubes, bases, chains, hardware, etc. Plus we include detailed instructions for building your own planks. Click Here for more information.