.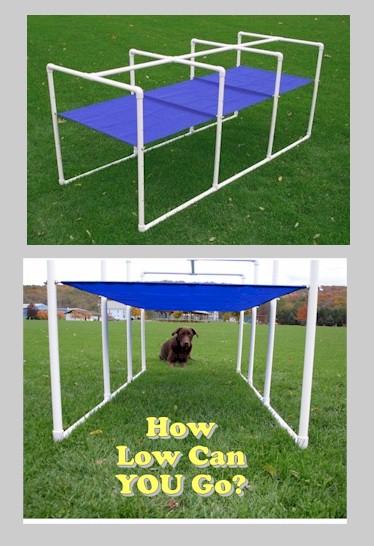 Crawl Tunnel
The crawl tunnel is a fun, unique obstacle that is used in K9 training to challenge the dogs to crawl through low places to get to a target location and retrieve something. This obstacle adds a new dimension of training to any home agility course that's sure to please! The height of the fabric roof is adjustable. Start it off high, then as your dog is crawling through to the other side you can lower the roof even more. Before long your dog will become so confident in crawling that he might voluntarily offer to crawl under your bed to retrieve your slippers!
Crawl Tunnel Features:
Frame made from furniture grade 1" outer diameter pipe (3/4" inner)
Fabric roof is made from waterproof rip-stop nylon
Includes 4 internally sleeved rods for the fabric roof support
Roof adjusts to heights of 24", 20", 16", 12", and 8".
When assembled, measures 75" long by 33" wide and 33" high
Assembly instructions included (can easily be taken apart for portability)
Please note: Shade of blue may vary from what is pictured above.
.