.
Dog-Walk Bases...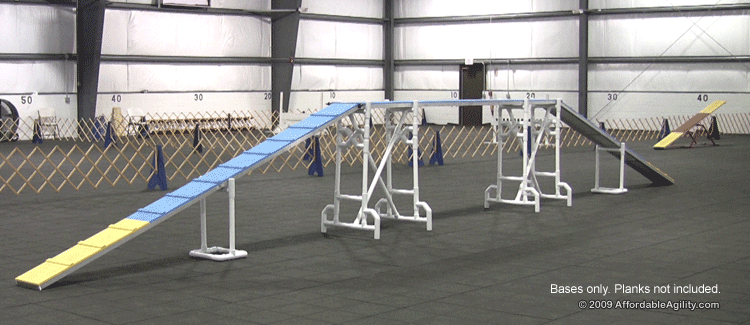 An engineered masterpiece,

these ultra-sturdy plastic bases are lightweight for transport, and feature carefully placed cross-supports that alleviate all sway and bounce. These can be used for backyard use or competitions. They can also be folded flat for storage. Some assembly required.

To complete this obstacle you just need the boards and paint. We include easy instructions on how to buy and prepare the boards, which are standard-sized boards available in all lumber stores. You will be supplied EVERYTHING ELSE, including:
Bases (2 or 4, depending on which kit you purchase)
Custom Hinges with quick pull-out pins. These are handy for quick disassembly of the boards.
Board slats w/ nails, traction sand
Hardware (bolts, nuts, nails) needed for assembly
EASY (Visual) Step-by-Step Instructions for assembly and preparing the boards.
Two kits to choose from:
36" High Base Kit ... requires 8 foot boards. Similar to the above photo, but doesn't come with the additional supports on the ends and the middle bases aren't quite so high.
48" High Base Kit ... requires 12 foot boards. As shown in the above photo.
Note: The larger 48" Kit can be adjusted to 48" OR 36" high.
CLICK HERE for more detailed information about this obstacle.

---

Pampered-Paws Kit
Everything you need to resurface your planks with a soft and attractive rubber surface. Available for your used or new equipment. Get better traction and more speed! Click here to learn more.
---
Can't afford both an A-frame AND a Dog-walk? Need something more portable? Consider the CONTACT TRAINER!