Fancy footwork required! One of the fun agility NADAC games is called Hoopers, which utilizes a series of ground-level obstacles called Hoops. Instead of physical dexterity, the challenge of Hoopers is entirely focused on the ability of the handler and the dog to work together as a smooth flowing team. Creating efficient paths between hoops is a matter of skill and strategy! Hoops are wonderful training aids as well, because you can use them to train puppies basic directional cues before they're old enough to jump. Older dogs can also greatly extend their agility career with these safe no-impact obstacles. Easy to transport and set up, it's easy to create endless games and sequences with hoops, and if you are more experienced in the sport, you'll never run out of ways to enhance your communication skills and refine your handling lines with hoops!
Specifications: Our hoops are made to the specifications required by NADAC. They allow either full hoops, or half "arched" hoops (such as we sell). We like the arched hoops because the dogs never mistake them as tire jumps, and (bonus!) can also double as contact zoners at the bottom of contact obstacles (to help control a dog's straight descent on a-frames, dogwalks, and teeters). The hoops are 34" wide x 36" tall, have 16" uprights and 12" legs. For ease in storage and travel, the frame can be easily taken apart, and the hoop can be removed. It is made of sturdy UV-resistant furniture grade pvc pipe. We also include an optional use sandbag to help keep your hooper upright on particularly windy days. Click Here for more pictures.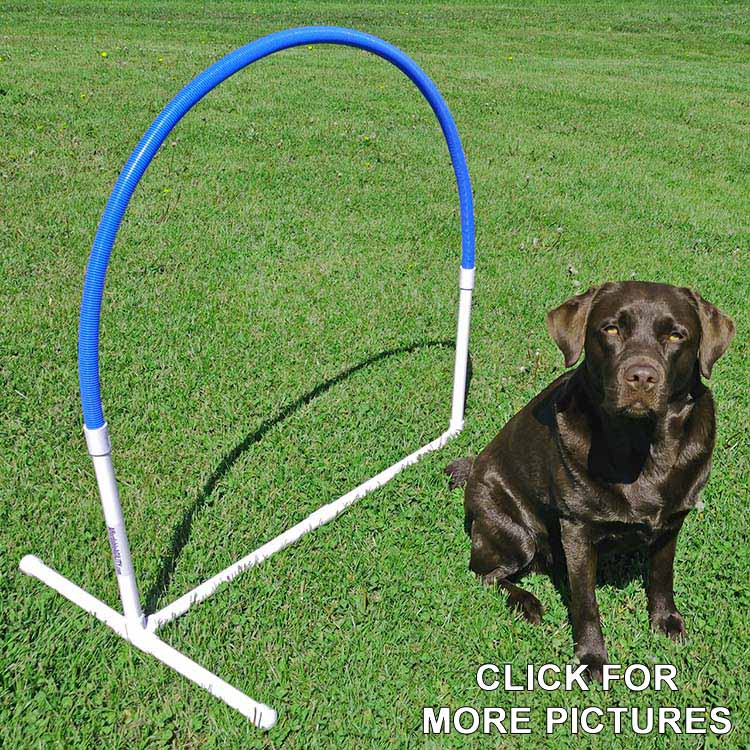 ---
TO ORDER: Type Quantity & Click Add to cart Button!

---
Check out this video of some Hoopers in action!