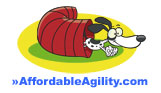 How to Make Your Own Dog Walk Planks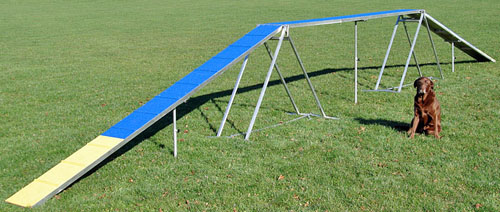 To complete the dog walk, you will need planks. You can buy our maintenance free aluminum dog walk planks with a rubberized surface, or make your own planks. Making your own plank can save you money. Keep in mind that a plank made from wood will require maintenance. Included with the 'dog walk bases only' option are step-by-step instructions for making your own planks. Below is a list of what you may need to buy at your local hardware store:
(3) 2"x12"x12' wood boards
Finding the right wood board at your local home improvement store is easy. The board to get is common framing lumber. It is the same wood that contractors would use for framing a deck or house. The type of wood is relatively unimportant. Pine is fine, hemlock fir, etc. Though, pressure treated is not suggested, as these have a tendency to be VERY heavy, and really don't need to be pressure treated anyhow, as you will be painting it. The trick is finding a decent piece out of the stack that isn't overly warped or cracked. Though it doesn't need to be perfect, as a coat of paint goes a long way. You will want three boards at 12 feet long. In regards to the width and thickness of the board, common framing lumber is 'labeled', or referred to by numbers that are rounded up to a whole number. For example, 2"x12"x(length) has an actual measurement of approximately 1-1/2"x11-1/2"x(length). This is okay, they will work great for your obstacle.


Slats
Slats need to placed on the top surface of the up/down planks. They are not needed on the center plank. Slats are spaced 12" apart. For the two 12' up/down boards, you will need a total of 22 slats that are equal in length to the width of the board (11-1/4" long slats will work well). You will need to find a material that you can use for slats. Usually a lumber store has moulding that will work. Again, you will need a minimum of 22 feet. You will also need a way to cut it into the required lengths. Per AKC specifications, they need to be 3/8 to ½ inch thick and ¾-inch to 1 ½-inches wide, edges shall be rounded or beveled so as not to be sharp, and ¼-inch radius is recommended. Close enough is good enough, but don't use anything overly large, as it can become a hazard to your dogs feet. See Lowes Store online item # 9155. A half round moulding within those dimensions and specifications will work well. You will also need an adhesive like 'Liquid Nails' to attach the slats to your wood plank (before painting). Small panel nails are also suggested to nail the slat to the wood planks, after adhering.


Paint
You will need yellow paint for the contact zones that are on the two end planks, and some other contrasting color of your choice (usually blue) for the non-contact areas and the center plank. The contact zone length is 42" from the end of the plank. The rest of the plank is the other contrasting color. Exterior paint is recommended. Gloss is not recommended (too slippery). Latex paint is also recommended over oil, as it features easy water clean-up. An exterior latex satin or semi-gloss paint will work perfect. You will want to get enough paint for up to 3 coats. In addition, an inexpensive paint brush is required, and a roller/tray can also help speed things up.


Sand
Sand is used for traction. After you put a first coat of paint on the board, while it is still wet, you will pour sand all over the top side of the board. Then you will tip the board over to let all of the excess sand fall off. After the first coat has dried, the remaining sand will be infused into the first coat. Then you can put one more coat of paint on the board. We recommend a bag of 'play sand', as it is clean and has a fine grade consistency. Be sure that the sand you use is very dry, not clumpy at all, and relatively dust free.


Drill with 5/16" drill bit
You will need this to drill the holes in the boards for the bolts that hold the support tubes as well as the hinges.

Again, included with the 'dog walk bases only' option are step-by-step instructions for making your own planks, along with all of the information here.

You may also be interested in covering the top of your wood boards with our Pampered Paws for Dog Walk. It is a rubber surface that is applied to the top of your boards after they have been painted and are completely dry. If you do this, you will not need to buy sand. For more details on Pampered Paws, Click Here.

Copyright © 2000-2016 Affordable Agility, Inc. All rights reserved.