.


Use this handy chart to help you decide which Reseller Program is right for you. For further clarification, see the help topics below.
| | | |
| --- | --- | --- |
| | Affiliate Program | Drop-Ship Program |
| Potential for Profit | $ | $$ |
| Investment in money | none | none |
| Must have a website? | yes | optional |
| Must have a store location? | no | can work if you do |
| Must physically handle the items | no | no |
| Connection with Affordable Agility | clear connection | back-end connection |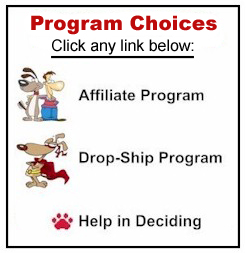 Potential for Profit:




The Drop-Ship Program has a medium-level markup on the obstacles that are offered, and they most likely will go back to you (or your website) for more equipment. But there is a possibility they will see our name on our Assembly Instructions in the box and for repeat orders, go directly through us. We do not offer Drop-Ship Equipment with special assembly instructions.

The Affiliate Program offers a small commission on the total order that someone places, when they click through on the banner ad placed on your website and places an order. While they can order anything (there is no limited selection, as with the Drop-Ship Program) the chance of them returning to us for future orders, and not going through your website link, is high.

Keep in mind that with the Affiliate Program, especially, your chances for making money is directly related to the traffic your website gets, and where (or how often) you place our banner/link. We have some affiliates who put our link in a very hidden page, and wonder why they are not getting any sales. We have others who put the link on their home page, or on all the pages, and they are making a high commission check every month.

Investment in Money:


The Drop-Ship Program involves no investment in money, unless you have a website and cannot do the shopping cart programming yourself. The Affiliate Program is by far the easiest, as long as you are willing to send people off your website to come to ours.

Must have a Website?


A website (preferably where dog-lovers frequent) is necessary for the Affiliate program (though if you are very ambitious, you can 'spread your affiliate link' in emails and discussion forums instead). It is optional for the Drop-Ship Program.

Must have a Store Location?


If you have an establishment that can physically sell things, you can give your clients Drop-Ship catalogs, take their orders (and money), and we will ship the obstacles to their door.

Must physically handle the items?


You do not physically handle the merchandise.
---
Have more questions?


Reseller Help Desk: A knowledgeable sales rep is available to help!
1-585-229-7979 (M-F 8am-5pm EST) OR Email: (fast replies!)


---

Reseller Introduction / Affiliate Program / Drop-Ship Program / Help in Deciding