.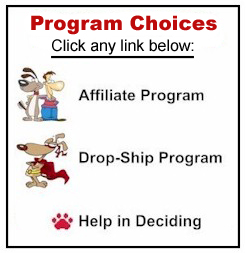 Introduction
Affordable Agility's "Affiliate Program" is by far the easiest program we offer. It involves no risk, no cost, and hardly any work. But you must have a website. Simply put, you place a banner or a text link (which we provide or you can create your own) on your website that is 'hyperlinked' with your Affiliate Number. When someone clicks on this link, they are secretly 'tagged' and taken to the AffordableAgility.com website. This 'tag' lets us know they came from your website. If they make a purchase, you will make a commission on their order. They are tagged for 30 days, so even if they come back later to order (regardless of whether they go through your website or directly), you will get the commission.
Why you would choose this program
If you have a website and are willing to send people off of it to ours, in order to make money.

It is best if you have a website that is dog-related. The more prominent our link, the more money you can make

It involves no risk, no cost, and hardly any work. Best for people who might have limited programming knowledge, OR for people who don't want to do any direct "selling".
To get started

< Click Here for more information and to sign up! This is how you get your unique "Affiliate Number". You will be provided with easy instructions on how to place the link on your website and begin making commissions right away!

Have more questions?


Reseller Help Desk: A knowledgeable sales rep is available to help!
1-585-229-7979 (M-F 8am-5pm EST) OR Email: (fast replies!)

---

Reseller Introduction / Affiliate Program / Drop-Ship Program / Help in Deciding