Learning Center!


Introduction to Agility


Can my dog do agility?
Baby steps in training
Basic Do's and Don'ts


Overview of the obstacles
Training Tips for each obstacle
What to Call Each Obstacle


Help with dogs that are slow, scared, stubborn and crazy!


Joining a class
Entering a competition
General Rules

Agility is the most fun you can have with your dog! It's a winning combination of accuracy and speed, but most of all, TEAMWORK! If you have a special bond with your dog, then you have everything you need to have fun in agility.

How Amy got started...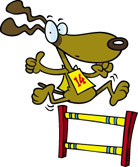 I was walking my dog, Dash, through my local park one day when I heard someone calling "Jump, Jump, Tunnel" and then there was some applause. Curious, we wandered over to an area with lots of people and dogs and a roped-off area of grass containing a number of jumps, tunnels and some other interesting things that looked like some type of playground equipment. "What is this?" I asked a woman playing tug with her cute little poodle. "It's dog agility!" She went on to describe how people (handlers) direct their dogs over a course of about 13-19 obstacles in the correct order. "Everyone, including the dogs, looks like they are having such fun", I exclaimed. Dash barked excitedly in agreement. "Is this something Dash and I could do?" "Of course!" came the reply. My new friend went on to describe how it takes training for both dog and handler to learn to perform the obstacles correctly and safely but anyone with a desire to have fun can enjoy dog agility. I looked around again and noted that people and dogs of all ages, sizes and shapes were participating in the sport. Dash and I smiled at each other as I vowed to find out more information. Dog agility is just what Dash and I were looking for!