Learning Center!


Introduction to Agility


Can my dog do agility?
Baby steps in training
Basic Do's and Don'ts


Overview of the obstacles
Training Tips for each obstacle
What to Call Each Obstacle


Help with dogs that are slow, scared, stubborn and crazy!


Joining a class
Entering a competition
General Rules


Joining a class
Different kinds, what to expect, and how to find them

The different kinds.
Agility classes are popping up all over. There are simple groups that practice together in backyards, and more organized classes that advertise. Often the organized groups call themselves by a "club" name, and as they become bigger they may even host agility matches and trials. Many obedience trainers and clubs also train agility. For the young people, there are junior handler classes, and more and more 4-H groups are starting agility training. If not, they are most likely looking for volunteers to help get something started! The fact is, agility is spreading and there aren't enough classes to keep up with the demand.
What to expect.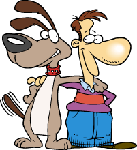 Don't be afraid of joining a class. You will meet plenty of "newbies" just like yourself, with zany dogs that do unexpected things just like yours. You do not need to have any prior practice. Most people do not have obstacles at home until they start training. Then they go crazy! Usually classes are small, maybe 6-10 people, so the trainers can offer more personalized service. If there are more, there might be another instructor or helper to break them into smaller groups. They last about an hour, once or twice a week, and can go 4-8 weeks per "level" (beginner, advanced, etc). Expect to pay anywhere from $40-$90 for all the classes (most trainers do not allow a per-day payment plan).
You will need to keep your dog on a leash for the beginning classes. Later the instructor might recommend using a short leash called a "tab" that won't get hung up on an obstacle. Bring water and lots of treats if your dog is food motivated. It also helps if your dog is a little hungry. If your dog is motivated by toys, bring a favorite. Tug toys work great. It's always best to bring a toy that you might reserve for agility training only. It makes the toy more special (and desirable). The same goes for the treats. Finally, walk your dog in a designated area to allow him to relieve himself before entering the yard or building. Eliminating around the obstacles is a no-no, and if you can help it, try to be watchful of this area.
How to find them in your area.
There are some websites that have searchable databases of trainers and clubs that might be in your area. Try www.dogpatch.org/agility or www.cleanrun.com . To make sure you aren't missing out on one that is right in your own neighborhood, however, you may want to also ask around. One of the best people to ask is a local obedience trainer. They are easier to find and often train agility as well as obedience. You can find them advertised on bulletin boards of vets and pet stores, or in the phone book.
Article feedback: email: training@affordableagility.com