Learning Center!


Introduction to Agility


Can my dog do agility?
Baby steps in training
Basic Do's and Don'ts


Overview of the obstacles
Training Tips for each obstacle
What to Call Each Obstacle


Help with dogs that are slow, scared, stubborn and crazy!


Joining a class
Entering a competition
General Rules



Overview of the Obstacles

The obstacles that are used in agility are colorful, safe, fun, and challenging! There are many to choose from, and it can be overwhelming at first. However it isn't all that complicated as you will see. Many of what you see in an agility course are jumps of various styles. So if you only have one jump at home, this is a great start for your dog to learn the basic principle of jumping. The other fun obstacles to have at home is a tunnel and weave poles. Let's go down the list in order of importance:

Bar Jump:
This is a basic jump from which other jumps evolve. It contains a bar for the dog to jump over that "displaces" (i.e. falls off) if the dog hits it. This is important for safety. The bars should not be placed higher than your dog is able to jump. You'll know if your dog keeps knocking the bars down. For simple backyard training, put the bars lower to be safe, especially when starting off.

---
Weave Poles:


The weave poles consist of (for starters) 6 upright poles that a dog must weave in and out of. This obstacle is the most fun to watch on T.V. or in competitions, because the dogs seem so eager and fast to run through them. It takes slow and consistent training to get them to be so fast (big rewards on the other end!) Even if you take a training class, every trainer recommends having a set at home. Practice just 5 minutes each day and you'll be soon on your way to an impressive weaving dog!
---
Tunnel: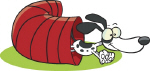 The tunnel is also called an "open tunnel" (to contrast with the "closed tunnel", which is another obstacle, listed below). The tunnel is usually a dog's favorite! For this reason it makes a great obstacle to add to your backyard selection, since it can be used as a "reward" obstacle after a more difficult obstacle. It can be any length for practice, but the longer it is, the more easily it can be curved for additional challenge.
---
Tire Jump:
This is another jump, but is a little different, in that a dog jumps through a hoop instead of over a bar. It is not actually a tire, but looks like one. The hoop is adjustable in height.
---
Closed Tunnel:


The "closed tunnel" consists of a short tunnel (or a plastic barrel) with a long material chute (i.e.tube) attached to the back end. The dog runs through the front portion, then must run through the material, feeling it along his back, not knowing what will be out at the other end! It's sort of like a dog that likes to tunnel under your covers and come out at your feet!
---
Pause Table: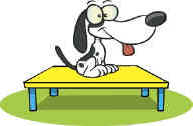 This obstacle is the big "interruption" of a dog's fast and eager obstacle run. Can you see him now? Running full speed, having a blast, then you point to this table. He must jump on it and either sit or lay down (whatever the judge tells you, if at a competition) and stay there for 5 long seconds until you release him to run again. No fun! But it's an important obstacle nonetheless, and is a good indicator of whether your dog is obedience trained or not. However, you can use the table to help reinforce the stay command if your dog still needs work in this area. The table is also adjustable to different heights. It has a non-slip surface and must be secure. If you do not have a table, a "pause box" can be used as a substitute. It is a square form, made of white pipe, that lays on the ground. Your dog must lay or sit inside the box for 5 seconds.
---
Teeter Totter:


Also called the See-saw, this is called a "contact obstacle", because your dog must make contact on a certain area of the obstacle. It's not just a matter of your dog going up one end, and down another, your dog must also hit the yellow "contact zones" that are painted on the boards with his paws. This is a rule to keep dogs from running so fast that they don't properly control the obstacle. Many dogs like to "fly" off the teeter, forgetting to walk down slowly. This is especially the case with larger breeds.
---
Dog Walk:


This is also a "contact obstacle", consisting of 3 planks in a row, set up on stands. Your dog must walk up one plank, across the top plank, and down the other, making sure that he touches the yellow zone on the way down and doesn't jump off. The challenge of this obstacle is primarily in the narrowness of the planks.
---
A-frame:


This is also a "contact obstacle", and the grand-daddy of all obstacles in size and weight. It looks sort of like a military scaling wall. It also has yellow contact zones that the dog must touch on the way down. Most dogs like the A-frame. The biggest challenge is for dogs to not jump off too soon when they are coming down, especially the larger breeds. The Aframe has a non-slip surface and cleats.
---
Other Jumps:
There are other jumps in agility, such as the "Broad Jump", which is a jump that lays flat to the ground and consists of 2-5 boards (depending on your dogs jump height). This jump is similar to an obedience jump. There is also a "Double Jump" and "Triple Jump" used in the sport, which is a bar jump that has more than one bar for your dog to jump across, so not only is your dog jumping in height, but also in breadth. One other jump is called a "Panel Jump", which is like a wall made of removable planks hanging on the jump cups. It is also the same kind of jump used in obedience training work.
---
Miscellaneous:


While the obstacles listed above are the common "core", there are some more that are specific to each of the different agility organizations. This includes some unusual obstacles like the "sway bridge", "crawl tunnel", "window jump", and "cross-over".


By training@affordableagility.com