.
Economy Adjustable Jump...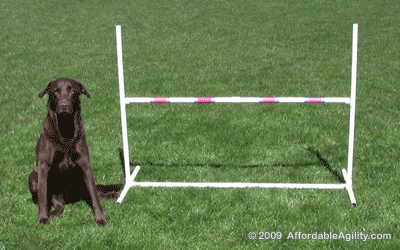 Perfect for backyard practice. This no-nonsense jump is a scaled-down "economy" version of our competition jumps, utilizing a smaller pipe size and a SINGLE pair of snap-on "cups" to hold up the top bar. Like our competition jumps, the top bar displaces (falls off) if the dog hits it, and the bottom bar is "fixed", allowing you to pick up the jump and move it without the bars falling off. The top bar is adjustable by sliding the jump cups up and down. The cups are designed according to AKC standards. All of the bars are 48 1/2" wide and come apart in the center for portability (or to make a more narrow jump for use in hallways!). The side bars are 37" high, allowing for a height adjustment from anywhere between 4"-36". Uses 1" O.D. UV-stabilized, light-weight, furniture-grade plastic. FREE colored tape is included to decorate the jump, and easy instructions for assembly. An excellent jump that is so affordable you can buy a bunch!
Optional: The jump comes exactly as shown. But if desired, you can add even more bars to this jump. Each "Kit" comes with a 48 1/2" bar and a pair of jump cups. It's not necessary for practice, but it might be good if you have a smaller dog and you're afraid they'll run under the bar.