.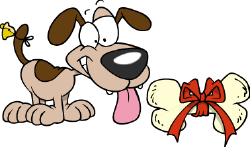 New Items!
Affordable Agility has some exciting new obstacles to help you and your dog stay in top agility shape! Got questions? We'd love to help. Please feel free to email us, or call 1-800-254-9441.

To view an item below, click on the item's name.


Competition Broad Jump
Built to the newest AKC obstacle specifications, this top quality competition Broad Jump, also sometimes called a Long Jump, features sturdy boards, marker poles, and a completely weather proof construction.

Dog Agility Essentials Set
The perfect cost conscious solution for either someone just starting out in the sport of dog agility, or even seasoned competitors looking for portable dog agility equipment for practice… this combo set includes an Adjustable Jump, Tire Jump, and Weave Pole set - all for one low price!

Breakaway Tire Jump
This high quality competition tire jump is the ultimate in safety and design.

Competition A-Frame
All aluminum with rubber surface makes for the very best construction. Top of the line quality in design, materials, and craftmanship. Meets and exceeds standards for sanctioned trial use.

Mini A-Frame
Made from solid aluminum with a premium rubber surface, this is built tough! Being a smaller version of the full sized A-Frame, it is more manageable for training, and it can ship via UPS.

Competition See-saw BASE
This top-quality aluminum folding base is fully adjustable to any height. Also comes with kit (hardware) and instructions for getting and preparing your own board. Or pair it with the See-Saw Plank for a dynamic duo.

See-Saw Plank
Ready to attach to the Competition See-saw base, this is a seriously tough teeter plank constructed of all aluminum with a rubber surface. Meets and exceeds competition standards.

Pampered-Paws Kit
Kits to resurface your used or new equipment. Get better traction, as well as a soft and attractive rubber surface!

Closed Tunnel Barrel and Brace
A Closed Tunnel with reasonable shipping!

Teacup Dog Walk
A lightweight, maintenance free, all plastic Teacup Dog Walk for small to medium dogs, including puppies!

TDAA / Teacup / Mini Obstacles
TDAA equipment is designed for little agility dogs, and in response to your demand, Affordable Agility is now carrying its own line of TDAA competition and practice equipment.

Competition Dog Walk
The ultimate agility obstacle! This full featured, top of the line, competition quality dog walk provides exclusive benefits and features not found anywhere else.

Competition Weave Poles - AKC
Competition quality for AKC, USDAA, and CPE trials! Flat aluminum base with rigid fixed poles for serious practice work and competitions. Recommended for the fast and furious. Can also be used for training beginner dogs using the 2x2 training method.

Hoopers Hoop
NADAC's Hoopers game is unlike any other in agility, and uses a single no-impact obstacle called "Hoopers Hoops". Besides a fun game that can be 'taken anywhere' you go, hoops have multiple purposes for puppies, veteran dogs, and achieving more crisp clean handling lines in experienced dogs.

"E-Z Sacks" Sandbags
Whether it's the ordinary jostling of dogs speeding through a course, or even a gusty breeze, E-Z Sacks are the best way to keep everything where it belongs!

USDAA Broad Jump
All materials, dimensions, and performance of construction, meet or exceed USDAA criteria to be considered competition use.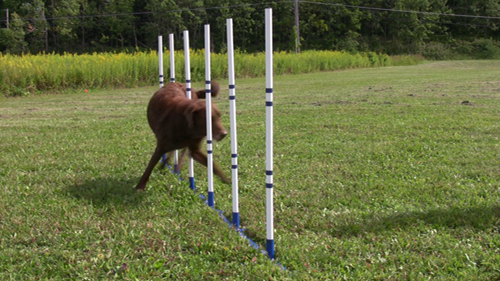 VersaWeaves™
A breakthrough design you won't find anywhere else! We designed the VersaWeaves™ to be a versatile, full-fledged competition weave pole set that easily converts into a channel weave set or a 2x2 weave set. The VersaWeaves™ really are the only weave pole set you'll ever need!

Lattice Wing Jump
All plastic pvc pipe with 1-1/4" OD that is sturdy, UV stabilized and furniture grade, makes for a jump that can sit outside all year long.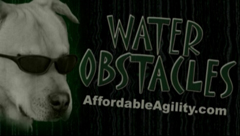 Water Obstacles!
Looking for fun, interesting agility obstacles with a twist? Think you've seen and done them all? Wait until you try our new water obstacles! Introducing the Hydro Hoop, Puddle Jumper, Doggie Drencher, and Aqua Hurdle - exclusive creations from Affordable Agility. Be sure to check out the videos!

Wood Pause Table
This table is a great value with its ultra-sturdy plastic frame and wood top. It comes with all the leg heights needed for both AKC and USDAA, and a free carrying bag to carry the legs. Ships by UPS.

"Tunnel Holder" Saddle Bags
Holds your competition tunnel securely in place, whether on grass or a hard surface.


More!

Cavalettis
Flip-adjustable hurdles that can help your dog be a stronger competitor!

Trophy (MACH) Bars
Trophy Bars are a great way to remember special achievements in agility.

Rocker Board
The convertible "Rocker Board" is a unique conditioning obstacle that helps teach dogs to feel more confident with a moving surface under their feet. Then presto - use the pivot-adaptor to convert it to a "Teeter Trainer"! A great aid for indoor training on rainy or winter days.

Contact Trainer
Can't afford to buy an a-frame AND a dog-walk? Don't have the room for both, or do you need something more portable to train the contacts? Look no further. The Contact Trainer is your answer! It features a small a-frame on one side, and a short dog-walk on the other. (it also attaches to our Metal Pause Table).

Clicker Training Kit
This small, but amazing device with its crisp, metallic sound will help speed up your dog training and make it more effective.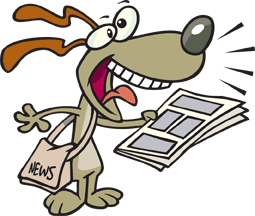 Other News...
Affordable Agility is located in the beautiful Bristol Hills of the upstate N.Y. region. In the last couple years we have seen a lot of growth, moving into a larger facility and expanding into the wholesale market. Please visit our "Meet the Staff" page to meet some of us. We also welcome our customers to come and visit us anytime! Most every item is in stock for pickup. For directions, click here for a map and hours.