Quality Sandbags for Tunnels
Put sand in these tunnel bags, place over the end of your tunnel, and you have a winning combination to hold your tunnel securely in place. From the normal jostling of your dog running through it, or a gusty wind, your tunnel will stay put. They are perfect for practice and competition grade tunnels.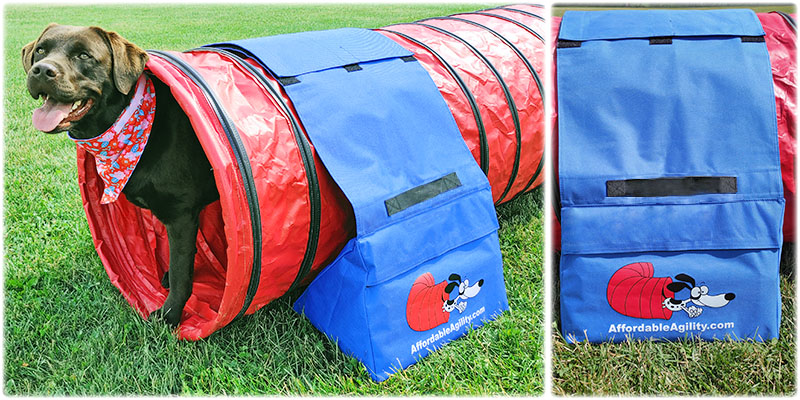 Features:
At 17" wide, it covers multiple ribs on your tunnel and is non constricting.
The triangular bags tuck under your tunnel, stabilizing it when you dog runs through it.
Designed to fit all tunnel sizes from 22" to 28" diameter.
600D oxford polyester with inner PVC coating is weather resistant and durable.
Heavy duty joining Velcro will stay connected even when wet.
The gorgeous and vibrant color logo is UV resistant.
Handles are on the tunnel side of the bag for safety.
Plastic baggies are included to load sand into, which are then placed in the saddlebags. This keeps your saddle bags clean and tidy.
Ships for FREE! - w/in continental United States only
---

---
They are so easy to use! Merely place a bag on each side of your tunnel, tucking them under your tunnel. Then align the velcro and connect over the top of your tunnel.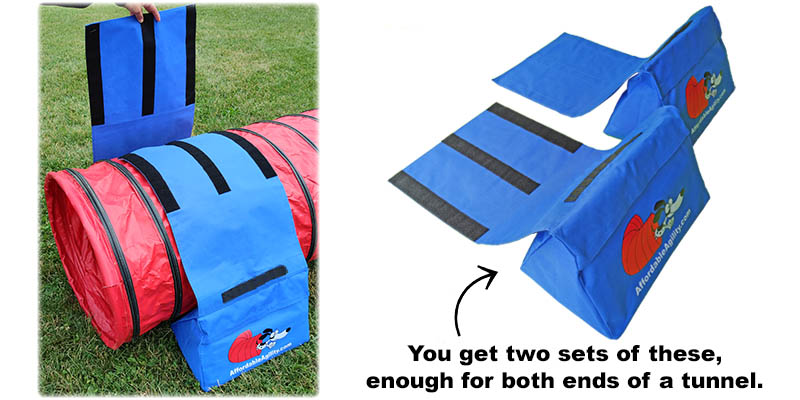 ---
You may also be interested in the "Pro-Series SaddleBags", which are just like these tunnel bags but with added features. Click Here to see them.
---
Choose item, enter quantity, & add to cart!