.

Miscellaneous
---

To view an item below, click on the itemís name.

---

Unusual Obstacles...
Hoopers Hoop
NADAC's Hoopers game is unlike any other in agility, and uses a single no-impact obstacle called "Hoopers Hoops". Besides a fun game that can be 'taken anywhere' you go, hoops have multiple purposes for puppies, veteran dogs, and achieving more crisp clean handling lines in experienced dogs.
Cavalettis
A cavaletti is an flip-adjustable hurdle that can help your dog be a stronger competitor.
Water Obstacles
Our exclusive obstacle creations combine agility with water for the ultimate challenge! Introducing the Hydro Hoop, Puddle Jumper, Doggie Drencher, and Aqua Hurdle. See the online video!
Rocker Board Another exclusive item by Affordable Agility!
The convertible "Rocker Board" is unique conditioning obstacle that helps teach dogs to feel more confident with a moving surface under their feet. Then presto - use the pivot-adaptor to convert it to a "Teeter Trainer"! A great aid for indoor training on rainy or winter days.
Crawl Tunnel
Used in K9 police dog training, this obstacle challenges dogs to crawl through low places.
Ladder -
Some trainers recommend using this conditioning obstacle for teaching dogs that they have four feet, and to control them better.
Pause Box
Similar in concept to the pause table, used very occasionally in some trials.
Window Jump -
Unique jump used in K-9 training and some agility trials!
Duffle Jumps
Portable conditioning jumps. Very affordable for setting up challenging multi-jump exercises such as rows and squares.
---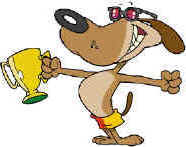 Agility Course Accessories...
Pampered-Paws Kit
Kits to resurface your used or new equipment. Get better traction, as well as a soft and attractive rubber surface!
Contact Zoner
No more disqualification! Train your dog to touch the tricky yellow contact zones with these handy adjustable zoners. Good for any size dog.
Cones
Plastic cones (available numbered or plain) for marking out the order of obstacles in a course.
Start & Finish Poles
Free-standing poles for your start and finish lines.
Trophy (MACH) Bars
Trophy Bars are a great way to remember special achievements in agility.
Tabs
Mini leashes that are used in training classes. Ours feature a unique "coil" design that adjusts in length.
"Tunnel Holder" Saddlebags
Heavy-duty saddlebags for securing Competition Tunnels down on any surface.
"E-Z Sacks"
Small, economical sand bags to weigh your equipment down. Can be used for practice tunnels too.
Sandbags
Inexpensive, traditional polypropylene sand bags.
Equipment Bags
Handy bags to store and carry your different obstacles from place to place.
Decorative Tape Rolls
Extra Vinyl and Duct Tape in a rainbow of colors, for freshening up obstacles.
---
Other Agility Items..
Clicker Training Kit
This small, but amazing device with its crisp, metallic sound will help speed up your dog training and make it more effective.
Clix Whizzclick
This handy training tool combines a clicker and a whistle.
Books & DVD's Assorted titles & topics
Click here for a wide variety of agility training books, DVD's, and other books on other subjects such as dog training, showing, tricks, pet massage, pet sitting, volunteering, etc.

---

Travel Gear
Equipment Bags
Handy bags to store and carry your different obstacles from place to place.
Doggie Backpack
Now your dog can feel like he's helping you, by carrying his doggie supplies in his very own backpack!
More Travel Gear
Check out this page for more unique travel gear.
---
Other Interesting Stuff...
Dog Breed Poster
Large colorful poster featuring all the AKC nationally recognized breeds.
Doggie Bandanas
Great promotional gifts for dog events, groomers, 4-H clubs, etc. All holidays available! Bulk Discount? Ask us.
120ft+ Dog Training Ball Launcher
Give your dog the exercise he loves and needs to be a fit-and-trim champion. Also great for training hunting dogs and retrievers.
Books & Videos on many various subjects related to dog training & ownership
Gift Certificates Great idea for raffles, prizes, or for an agility friend