.
Duffle Jumps...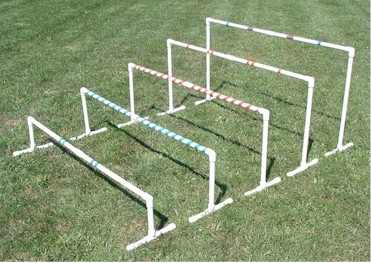 Tote these jumps anywhere you go. The unique feature of these jumps is that the 4 foot long bars disconnect at the center, so you can fit a bunch of them in a regular-sized duffle bag! Perfect for on-the-go practice. With at least 4 jumps, you can make a square to practice pivot jumping, or put them in a row to practice conditioning exercises. Or put them together (as shown) to make double and triple jumps! Your jumps will come with FREE colored tape for you to decorate them.

Note: The bars on the Duffle Jumps are fixed. (This means the bar won't fall off if your dog knocks it with his feet) Instead of the bar falling off (like in competition jumps), the jump will simply tip over (because it is so lightweight).
Available in 5 different heights. (For help on determining your dog's jump size, Click Here.) and CLICK HERE for even MORE details about these jumps.
This product ships free when purchased together with any other obstacle.*
*Shipping Note: These items will have a shipping cost attached to it in the shopping cart, but if they are ordered with other items that have shipping costs, the shipping may be adjusted lower at the time of order processing.
---
To order, type in quantity, and click "add to cart" button!
Go to the Master Obstacle List Page