Economical Sandbags for Obstacles or Tunnels
You may have seen something similar to these sold elsewhere
as Tunnel Bags, Saddle Bags, Obstacle Sand Bags, or Tunnel Holders. Bah. Boring! We call ours "E-Z Sacks" because they're just so darn easy - and affordable! Use 'em with Jumps, Teeters, Tunnels and more. Whether it's the ordinary jostling of dogs speeding through a course, or even a gusty breeze, E-Z Sacks are a great way to keep everything where it belongs!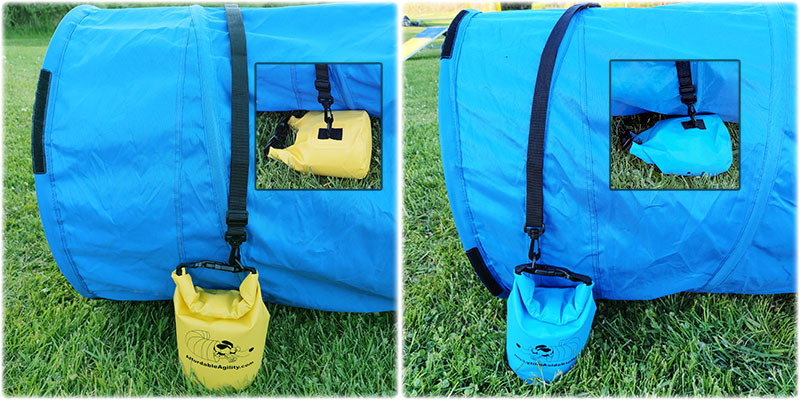 For holding down your tunnels, set them on each side of the tunnel and connect them together with the straps. The straps will go over the top of your tunnel and will lay on it loosely. You can have your bags standing upright or lay them flat so they snug up to the tunnel better. EZ-Sacks will keep your tunnel from blowing away in the wind and will help keep your tunnel in place. They are not meant for heavier duty competition tunnels though. For heavier saddlebags, check out the Saddlebags or even the Pro-Series Saddlebags.

For holding down your obstacles (like tire jumps), merely lay them flat on the obstacles base or feet. You can also clip the handle around the obstacles upright poles.

Our E-Z Sacks have a unique design that allows you to fill the bag with any weighted material (such as sand). They're a 'snap' to fill, close, pick up, and move around.
Features:
Comes with 4 bags & straps - enough for both ends of a tunnel
100% waterproof hot pressed extra thick & durable laminated PVC
5-1/2" round bottom x 13" tall unfolded
"Quick-Release" buckle with heavy duty webbing
Each bag can hold over 8 pounds of sand (not included)
Bags have 2 strap mounting points - one on top and one on the side
Straps work with all tunnel sizes
Ships for FREE! - w/in continental United States only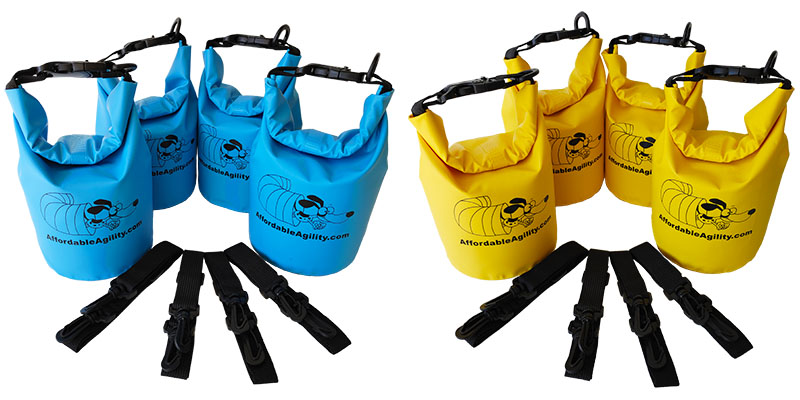 Choose color, enter quantity, & add to cart!
- Each set comes with 4 bags and 4 straps.