.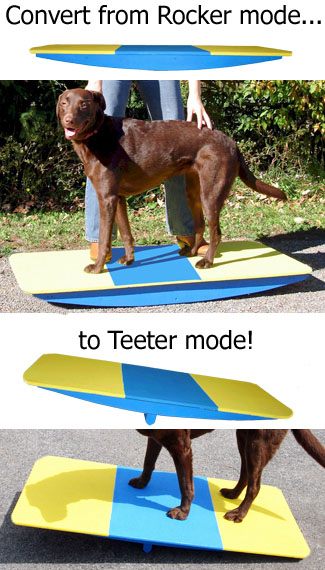 The Rocker Board
Rock, Wobble, or Teeter... it's hard to pick one word, because this training device does it all! Another Affordable Agility exclusive, the Rocker Board is used to teach dogs to be more confident with movement under their feet. Start with it in "Rocker Mode" to make it wobble (in a rocking fashion) to get your dog accustomed to a moving surface. Then, using the pivot-adaptor piece, you can convert this board to "Teeter Mode", to replicate the flip-flop movement of a teeter board. Perfect for introducing puppies to this challenging aspect of agility, or for building more confidence in a hesitant dog! It is far less intimidating than a "buja board" or "wobble board" which rotates on all 4 sides. It can also be used to work on contact zone performance. Because of the Rocker's minimal movement, you can repeat the exercises without tiring your dog.
Specifications: The board and frame is wood, painted and treated with a non-slip surface. It is 44" long and 22" wide. It is long enough for any size dog to get all 4 paws on, and has enough width to comfort hesitant dogs to stay on it. Easy to train with step-by-step training instructions included!

Click Here for a FAQ's page on this item.

Pampered-Paws Kit
Everything you need to resurface this obstacle with a soft and attractive rubber surface. Available for your used or new equipment. Click here to learn more.