.

Polypropylene Sand Bags...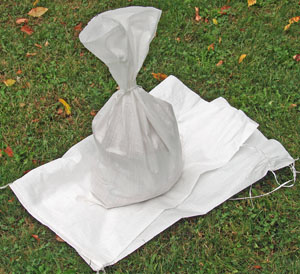 Most obstacles will withstand wind, but occasionally get blown over. Sandbags are helpful for keeping everything tidy and secure. Large bags are a white woven plastic kind of burlap (called polypropylene) with attached ties to secure at top. Can easily be cut down smaller if needed. 26x15 inches approximate size. They are also UV protected to withstand up to 1600 hours of sunlight. Each bag is rated for up to 50 lbs. Color may vary.
Of course, sand not included!

Note: These items will have a shipping cost attached to it in the shopping cart, but if they are ordered with other items that have shipping costs, the shipping may be adjusted lower at the time of order processing.
To order, choose quantity & add to cart!

Sandbags 1.95 ea.