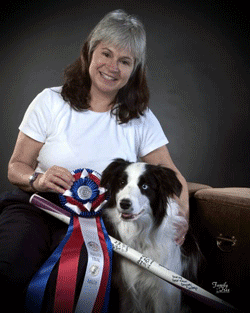 Susy Harris holding a MACH Bar,
with her multiple MACH champion dog,
Classy Lady Divine Diva
Trophy (MACH) Bars...
Commemorate your special event or new title!
Trophy Bars are a great way to remember special achievements in climbing the agility ladder. Like a MACH Bar*, they can be treasured a lifetime. They can be presented by teachers to their students that graduate a certain level of agility, and then new stickers to the bar can be added as the student progresses! Or give a bar for the first trial entered, and small stickers for each qualifying run, and larger labels for the titles. Each bar is 4' long, capped with black plugs on each end. You can also choose a roll of colored vinyl tape for candy striping or decorating it.
*MACH stands for Master Agility Champion, and it is a prestigious title awarded by the AKC for dogs and handlers who have competed as a team all the way through Novice, Open, Excellent, and then Masters. One of the prizes is a MACH Bar, a jump bar that is decorated and often signed by everyone on your team, and includes your club name and date.
Shipping Note: This will show up in your shopping cart invoice with no shipping by default, because it assumes you will order them with an obstacle. However, if you order this separately and by itself, the actual shipping charge will be added afterwards to your order total.