The Broad Jump, or sometimes called the Long Jump, is often neglected in agility training, yet it can be seen at every level of competition. The challenge is for your dog to jump over the boards, and not to run on top of them. An easy mistakes to make if this obstacle is not practiced enough!
Affordable Agility is proud to present this top quality Competition Broad Jump, built to the newest AKC specifications.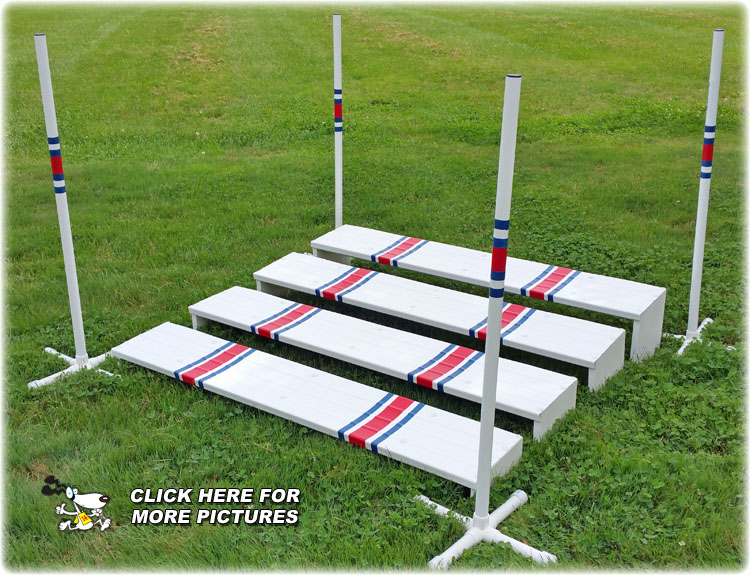 Some special features include:
Made completely from maintenance free, UV protected, plastic materials. Rain or shine, this weatherproof jump will last for decades.


It is extremely sturdy. The plastic boards will not sag or warp over time. Even if heavy weight is applied to the boards, they will flex without breaking and bounce back to their original shape. It is also heavy enough to not blow over in the wind.


Comes with corner marker poles! Corner marker poles are required in competition. Besides jumping over the boards, the goal is for your dog to also jump in-between the poles and not sideways through them. The poles are free-standing, for use indoors or out.


Includes blue and red decorative vinyl tape, for optional striping. It also includes simple picture orientated assembly and use instructions that is easy to read.


An ingenious design allows this item to ship via regular UPS, with 'no tools needed' minimal initial assembly.


Fully meets AKC specifications for use in competitions.


It is proudly made by us in the good ol' USA!


For more product details Click Here. Or to see more pictures Click Here.
Looking for a Broad Jump built to USDAA specifications? Click here for our USDAA Competition Broad Jump.