USDAA Competition Broad (or Long) Jump with Marker Poles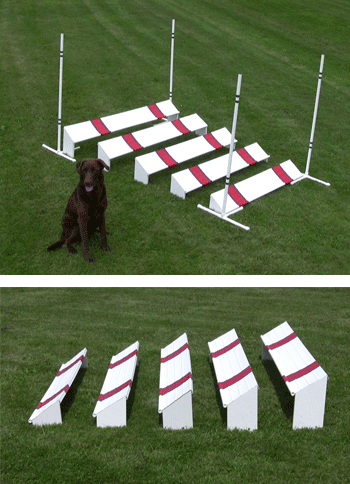 One of the least practiced obstacles...The Broad Jump (or Long jump) is often neglected in agility training, yet it is a jump that can be seen at every level of competition. The challenge is for your dog to jump over the boards, not to run on top of them (which is automatic disqualification). Easy mistakes to make if this obstacle is not practiced enough! Affordable Agility is proud to present this top-quality Competition Broad Jump.

Features:
Fully USDAA compliant.


Design meets criteria to be considered 'for competition use', yet is affordable enough to be considered practice!


All plastic construction means zero maintenance and completely weather proof. Leave outside year round... no problem!


Sturdy planks will withstand use. All five heights are included, therefore allowing unlimited use in all divisions and either the Champion or Performance Programs.


Each plank is slightly shorter than the next, allowing them to nestle inside of each other for compact storage.


Corner marker poles are included, as these are required in competition use.


Colored vinyl tape is included for custom decorating.


Comes with extremely simple initial assembly instructions, and instructions on use per USDAA performance rules.
More Specifications: Constructed of vinyl fascia and 3/4" thick pvc board. Longest plank is 60" long x 12" tall. Shortest plank is 48" long x 6" tall. Free standing marker poles are 48" tall. All materials, dimensions, and performance of construction, meet or exceed USDAA criteria to be considered competition use.

USDAA Competition Broad Jump with Marker Poles .... $429


Looking for a broad jump that conforms to AKC instead? Click here.