If you are looking for a high quality regulation tunnel at a competitive price, look no further! These are durable time-tested tunnels, sold to agility clubs and trial organizations for over 20 years. And best of all, they are proudly American made!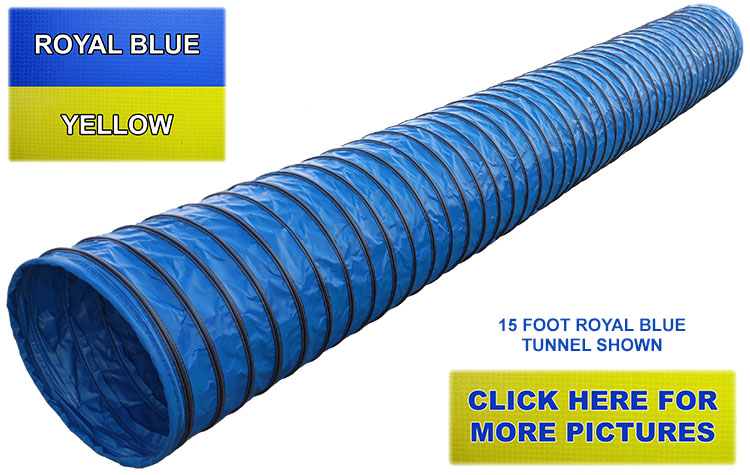 Some special features include:
High quality material is UV resistant to fading, weather-proof, will not mildew, and can be left outside all season long.


Made of anti-bacterial scrim-coated vinyl, it resists the growth of microbes and is resistant to tears.


Coil seams are not only reinforced with heavy duty stitching, but are also heat sealed for ultimate strength and durability.


Spacing between the coils (pitch) is 4 inches, as required by AKC and USDAA trials. They will keep their shape, stand upright better, and are safer to use with tunnel holder bags.


Available in the two most popular colors, featuring black stripes for better visibility.


Dimensions are 24 inches diameter, and are available in 10, 15, or 20 foot lengths.


Also available in TDAA (Teacup, small dog) size. Click Here to see it.


Click Here for even more information.


Proudly made in the USA!


Want to see more pictures? Click Here to see them.
Shipping Cost & Timeframe: Due to their size, shipping costs are custom quoted for each order. When you place an order, we will email you a shipping cost and timeframe. We do not charge your credit card until after we get your approval. To request shipping information in advance, you are welcome to email or call us - please include the style(s) you are interested in, and the 'ship to' zip code. Note: 'Tunnel Holder Saddlebags' ships free.
TO ORDER: Type quantity in box & click Add to Cart button!